You can support our mission of providing affordable housing for low-income families by: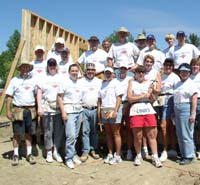 We have many volunteer opportunities available at our construction site and our ReStore. We are a volunteer organization and welcome your help!

Volunteer opportunities are available for individuals, faith groups, and businesses. By volunteering, you are playing a vital role in helping a family realize their dream of owning a home.

Volunteer at our Construction site. Volunteer opportunities are available at the construction site and at our ReStore. Volunteers of any experience level are always needed for ongoing Habitat building projects.

All volunteers under 18 must be accompanied by an adult!


All volunteers that are on the worksite are required to sign a waiver. Adult waiver forms are available at the site. A separate waiver is required by all persons 18 or under and must be signed by the volunteer and their parent or legal guardian. Youth waiver forms are available at the site.


A volunteer must be 18 or older to use power tools.


14 and 15-year-olds are allowed to paint, landscape, pick up trash, move dirt, provide and serve lunches, etc. They cannot perform or participate in general carpentry.


16 and 17-year-olds are allowed to do general carpentry, which can include activities such as hammering, putting in insulation, etc. They cannot do excavation, demolition, roofing, use power tools, or work at heights above 6 feet. They must follow all rules pertaining to hardhat use, height requirements, and power tools.


All youth are required to wear appropriate safety equipment for the task they are performing. Regardless of the tasks being performed, volunteers should at all times wear appropriate clothing to the site including thick-soled, closed-toed shoes.

Shop at our ReStore. You can volunteer by shopping at our ReStore. All net proceeds from our ReStore sales go towards funding the construction of a Habitat home. (See Shop at our ReStore for more information.)


Volunteer at our ReStore. You can also volunteer at our ReStore. We Are looking for:


Driver assistant to help pick up donations on Tuesdays.

Customer Service representatives to help our customers buy our products (during our ReStore hours on Wednesdays through Saturdays).

For both of these positions you should be friendly and courteous with good customer service skills and be able to move heavy items using hand trucks, dollies, and a pallet jack. Training will be provided.

Attend a Board Meeting. And, we need help guiding our organization. We need board members! We are growing, and great opportunities exist to lead our affiliate into the future. Please bring your talent and energy to our next board meeting! Board meetings are held the second Tuesday of the month at 5:00pm at the ReStore, 1519 Baldy Park Road. Our meetings are open to the public. Come check us out!
Our major challenge is raising money. Our funding sources are individuals, faith groups, local businesses, and ReStore sales.




* Donate your new or used (in good condition) materials to our ReStore

Our ReStore is stocked with donated materials. We sell these items, at discounted prices, and the net proceeds go towards building a Habitat home for a deserving family.

We greatly appreciate your donations of new or used items in good condition. Call us at 265-5313 to set up a pickup or drop off time. (See Shop at our ReStore for more information.)

Whatever talents you have we can put to use! Call 265-5313 for more information!