You can support our mission of providing affordable housing for low-income families by: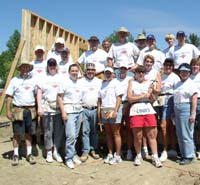 We have many volunteer opportunities available at our construction site and our ReStore. We are a volunteer organization and welcome your help!

Volunteer opportunities are available for individuals, faith groups, and businesses. By volunteering, you are playing a vital role in helping a family realize their dream of owning a home.

Volunteer at our Construction site. Volunteering is available at the construction site at Schissler Meadows and also at our ReStore. Volunteers of any experience level are always needed for ongoing Habitat building projects. The minimum age for assisting with construction projects is 16 years old.

Shop at our ReStore. You can volunteer by shopping at our ReStore. All net proceeds from our ReStore sales go towards funding the construction of a Habitat home. (See Shop at our ReStore for more information.)


Volunteer at our ReStore. You can also volunteer at our ReStore. We Are looking for:


Driver assistant

to help pick up donations on Tuesdays.


Customer Service representatives

to help our customers buy our products (during our ReStore hours on Wednesdays through Saturdays).

For both of these positions you should be friendly and courteous with good customer service skills and be able to move heavy items using hand trucks, dollies, and a pallet jack. Training will be provided.

Attend a Board Meeting. And, we need help guiding our organization. We need board members! We are growing, and great opportunities exist to lead our affiliate into the future. Please bring your talent and energy to our next board meeting! Board meetings are held the second Tuesday of the month at 5:00pm at the ReStore, 1519 Baldy Park Road. Our meetings are open to the public. Come check us out!
| | |
| --- | --- |
| $10 | Box of nails |
| $35 | Roof shingles |
| $50 | Low flow toilet |
| $75 | Window |
| $100 | Kitchen sink |
| $150 | Front door |
| $500 | Siding |
| $1,000 | Wallboard |
| $2,000 | Flooring |
* Donate your new or used (in good condition) materials to our ReStore
Our ReStore is stocked with donated materials. We sell these items, at discounted prices, and the net proceeds go towards building a Habitat home for a deserving family.

We greatly appreciate your donations of new or used items in good condition. Call us at 265-5313 to set up a pickup or drop off time. (See Shop at our ReStore for more information.)